Restaurant Grotta Palazzese
We have all seen the photo and the accompanying articles professing
you can romantically dine in a candlelit cave overlooking the Adriatic Sea.
The allure of that photo, a restaurant set in an unexpected location –
who wouldn't want to go there? I certainly did.
It's the Grotta Palazzese Summer Restaurant and it's located in a hotel
by the same name in Polignano a Mare in the Puglia region of Southern Italy.
Read more; 15 Romantic Hot Holiday Spots in Asia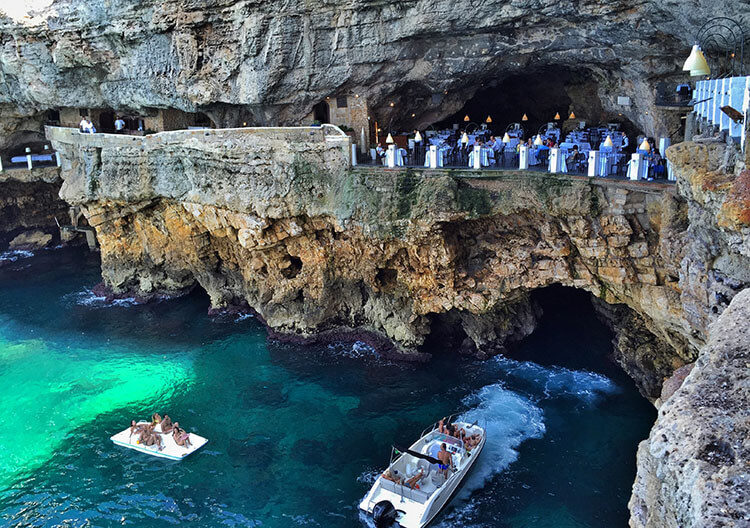 To be frank, we can't deny the
fact that location trumps other
things sometimes and I
wanted us to see what all the
fuss was about.
There's no debating that this
location is fantastic.
This restaurant was carved out
of the cliff's limestone
centuries ago by the sea and
has hosted elegant dinners at the request of Italian nobility since the 18th century.
Today the natural sea cave, which is the largest of all the sea caves under the town of Polignano
a Mare, serves as a summer restaurant (it's only open from May until October)
is sort of suspended between the town above and the Adriatic Sea 74 feet below.
See also, 8 Cool Most Visited Locations in Italy
The cavern extends back beyond the restaurant,
which has just a handful of tables to keep the atmosphere intimate.
My friends it is much more atmospheric i tell you when it's daylight
and you can appreciate the view.
You would be lucky to be seated at the sea view table,
after having been there, you'd have to agree.
Dinnertime in the south of Italy isn't until after dark,
even when the sun doesn't set until 8:30pm,
so you wouldn't be able to see much beyond the interior of the restaurant.
There's a fixed menu which you can plan to spend around $100 per person
or you can also order a la carte.
If you're set on dining at Grotta Palazzese's cave restaurant,
another great reason to opt for lunch is that you choose a la carte and eat lighter.
The menu is the same for both lunch and dinner and the average price per item,
including appetizers, is around €33.
Let us start with the
calamari fritti,
It is surprisingly paired with
watermelon atop a bed of
salad greens.
The calamari is flavorful and
crispy. It works well with the
watermelon too.
The portion is a bit on the
small side for an appetizer
priced at €35 though.
See also, Sea Spirit in The Middle of Pleneau Bay, Antarctica.
Craving the delicious lobster ravioli,
that is so good I order it two nights in a row at Hotel Santavenere in Basilicata,
and you'd be glad you did.
I opted for the lobster ravioli with cherry tomatoes and crispy basil.
It lacked flavor and desperately needed some seasoning.
You could agree with me on this or otherwise it all depends on your flavor taste.
I could take on tuna with curry served with burrata cheese and drizzled with just of balsamic.
This dish is more flavorful, immensely helped by the curry,
and it's hard to go wrong with a creamy burrata.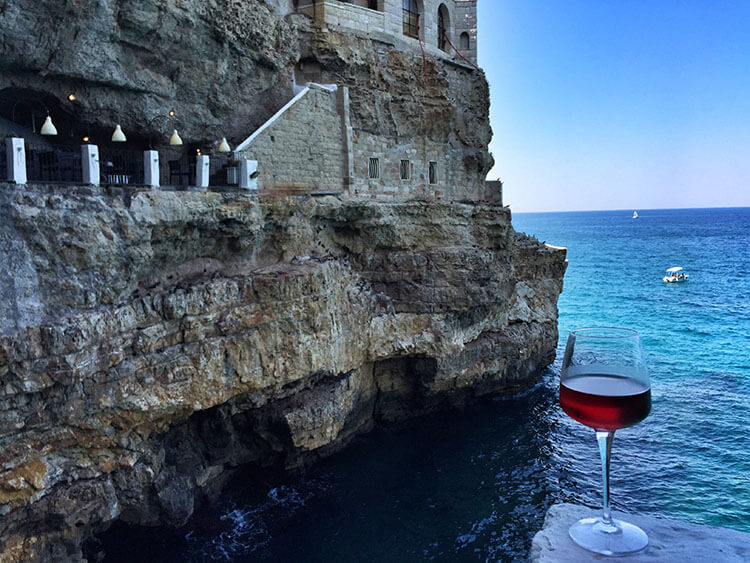 Italy isn't exactly known for
their rosé wines (called rosato
in Italy), though they are much
more common in the south of
Italy and Puglia produces a
good selection.
A chilled glass of rosato is
perfect for a hot summer day
and €35 seemed to the magic
number per bottle of wine.
You could get your server to choose the one he thought is the best.
I bet you won't be at all disappointed by the rosato.
Even though the restaurant is hosting you for lunch,
you can decided to skip dessert and opted to pop in to the gelato shop
around the corner from Grotta Palazzese.
Overall, their food is not terrible but it certainly was not up to par for the price.
At Grotta Palazzese you are clearly paying for the location and atmosphere.
My suggestion is taking in the atmosphere of the cave restaurant
by sharing a bottle of wine from Puglia at their bar instead of dining at the restaurant.
And if you want that famous photo of the sparkling aqua Adriatic
and the restaurant, head to the bathroom.
There are tiny little windows where you can stick your camera out to get the perfect shot.
Just be sure not to drop your camera!
Kindly visit Esupremesearch.com and follow our other social medial platforms
Facebook, Instagram or write to us directly at infoesupremesearch@gmail.comto
enrich your mind in very interesting articles.
Leave your contribution and the areas you want us to cover in comments space below.
Esupreme Search, Home network that meets your everyday search…